"

We are the warriors of truth. We do not cower back in fear. We step forward into darkness. We sing songs for all to hear." - Cassandra Vohs-Demann
— From the new single "We Are"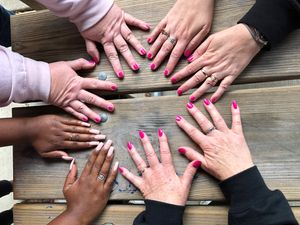 We Are
Cassandra Vohs-Demann
Help support more projects like this.
Your support helps me to continue to create, record and share my music and continue my work in the community. Thanks so much for supporting me during this crazy time. Love, Cassandra
Enter the amount you wish to donate
WE ARE
Music, lyrics and vocal arrangements by Cassandra Vohs-Demann
Instrumental track, mixing and mastering by Graham Butler
Produced by Graham Butler & Cassandra Vohs-Demann
Photo for the cover art was taken by my nephew Bradley Vohs of some of the women in my family's hands. We were gathered for the Care4 Breast Cancer walk  supporting my sister Kelly who is currently  battling breast cancer.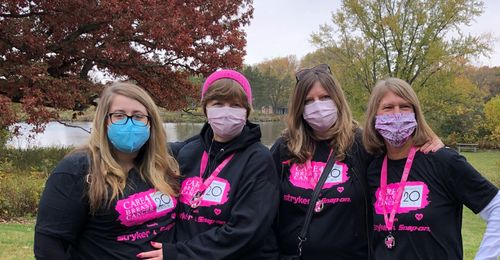 THE WOMEN WHO SANG
Annette Jasiota
Carrie MacDonald
Lynn Schauble
Suzanne Schwartz
Behind clear shower curtains, one at a time over a three day period, these powerful women laid down multiple tracks of background vocals in my studio. Trying to record in the midst of a pandemic is a tricky thing. They learned all the parts on their own since we could not rehearse.  I will forever be grateful for their time, talents and friendship.   All four women have been members of the Woodstock Community Choir. 
THE WOMEN WHO SPOKE

Carol Alfus
Kelly Donovan
Rebecca Hegner
Annette Jasiota  
Carrie MacDonald
Diane Parrish
Cheryl Red
Lynn Schauble  
Suzanne Schwartz
I really wanted to hear women's voices speaking on the track during a very powerful section of the song. I sent some emails and these ladies all participated. They had to record their tracks on their phones and send them to us because I could not put them all in a room.   I will forever be grateful that they took the time to be a part of this project! Love you all.  
Available on iTunes, Google Play and more. 
THE STORY BEHIND THE SONG
In 2016, I wrote a song about empowering women, but I never finished it. I had been thinking a lot about all the women in my life. Women like my mom, my aunts, my grandmother, my sisters and so many mentors, teachers, and friends.  I thought about my beautiful nieces and the hundreds of students I have had the pleasure of mentoring over the last 30 years. I wanted to write a song for them. I wanted to write a song to give them strength and hope and to help them know that they are not alone.  
As women, we struggle to find balance in a world that expects so much of us. We seek respect and acknowledgment for what we bring to the table. We fight to be heard and taken seriously in a world that does not always support women's voices.  I wanted to give the gift of a song that would unite that which we all share and to honor the pieces of ourselves that we all give to the world, our communities, and families.  As I said, I never finished the song or recorded it. I was not happy with the chorus, so I put it aside. I do this sometimes in hopes that the song will reveal itself in its own time.  
Fast forward to January 2020 and I received an email to be the performer for the Women's March on the Woodstock Square. I knew right then the song I wanted to do, but I was not sure if I could get it done. I kept working on it and literally an hour before I had to leave, the chorus just came to me like a gift. When I hit that chorus in the program, the audience when crazy.  I knew I wanted to record the song and I knew I needed to do it soon.   
And then…. March 2020 and the first shutdowns happened. We all know the story and here we are, still living this reality. What many people do not realize is the true impact of the pandemic on professionals in the entertainment world. My entire livelihood was shut down in the matter of a few weeks and it still has not recovered. In the beginning, I was optimistic. As time went on, I became very disillusioned.  As my family faced obstacle after obstacle with illnesses and losses both personal and business, it got harder to stay positive. I did not feel like doing music. I did not feel like building or trying anything.  There seemed to be no point. So many things I had worked on at the end of 2019 and early 2020 that were to be launched and realized in 2020 were ALL cancelled. It was heartbreaking. My husband Phil was working way more than before, and I was struggling to find my way forward. I was and continue to be so grateful for his love and support to me as I tried to grieve what had been lost. 
The pandemic was affecting everyone around me and we were all trying to find some place to land or get our footing back. My beautiful circle of women kept showing up for each other and me. We kept each other going. We cried together. We got angry together and we tried to give each other the support and motivation that we all needed to get through all of this. We are still doing that every day.  In the middle of it all, both my sisters were facing serious health issues that made me realize that waiting was no longer an option.  I wanted to record the song for them. 
2020 is also the 100th Anniversary of Women's Right to Vote and October is breast cancer awareness month. We are also facing a time when some of our leaders are trying to take away or control women's rights. So many things were aligning around this song that it felt like I was being driven forward and I did not have a choice but to get it done.  My husband agreed. 
So, I called my friend Graham in California and asked him if he thought we could pull it off. He was immediately on board.  We were trying to figure out ways to get tracks recorded for choral background vocals and I rigged up a safety area in my home studio to get people in to record one at a time. I wrote out vocal arrangements and sent them out. Graham created an incredible track, and our collaboration lit a spark in me that I had not felt in an awfully long time.  
I am so proud of this song. I am so proud of everyone who stepped forward and helped make it a reality. I hope it becomes an anthem for anyone who needs to feel empowered, loved and supported. Please share it far and wide. "We will love until we're gone."  Love, Cassandra